Minimum quantity cooling lubrication system microlube Advantage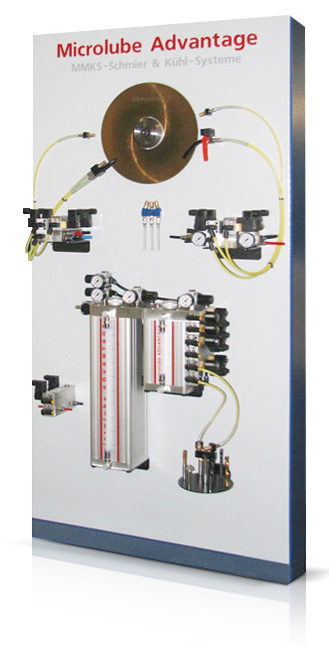 The minimum quantity cooling lubrication system is used primarily in metal process, but also in clamping and clamp-free procedures.
Here, the preferred processing methods, alongside sawing, drilling, turning and milling also include thread cutting, stamping, bending and shaping. Previous experience has concentrated primarily on the materials aluminium, aluminium alloys, non-ferrous metals (e.g. electro contact material) as well as steels, stainless steels and plastics.
Alongside new installations that have been specifically designed for customers, conversions from conventional cooling-lubrication systems to the Spontan microlube ADVANTAGE minimum quantity cooling lubrication system are easily possible.
User experiences have shown that the key advantages of the minimum quantity cooling lubrication system are:
Controlled and targeted application of lubrication/coolant
High tool durability
Reduced lubrication consumption
Increased process safety since the process procedure is optically easy to follow, and the operator is able to quickly react in the event of risks
Increase of operation safety thanks to dry & clean machine environment, lower accident risk
Improvement in health protection thanks to reduced environmental emissions - lower risk of allergies or skin rashes
Workpieces degreasing is not required since they are almost dry
Considerably reduced machine contamination
Reduced disposal of used coolants, oiled shavings or filters etc.
Maintenance-free system
Simplest handling of the minimum quantity cooling lubrication system
Can be expanded to any extent thanks to modular building-block principles
Has direct positive and sustainable effects on cost-savings.
Downloads